THE 12TH CHINA INTERNATIONAL BEARING INDUSTRIAL EXHIBITION
2012-6-19 15:58:28
China International Bearing Industry Exhibition (CIBIE), which has been becoming increasingly mature and international since it first held by China Bearing Industry Association in 1990. After 18 years of development, today CIBIE is the largest fair of the bearing industry worldwide. By the year 2008, the 11th session, the exhibition area reached to 35000sq.m.with about 600 companies from 18 countries and regions participated in. Many of them are world-famous bearing enterprises. It attracted more than 40,000 professional visitors. Obviously, CIBIE plays a very important role in the world bearing industry.

The 12thCIBIE will be held in Shanghai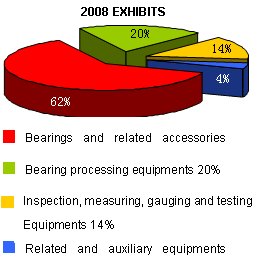 Everbright Convention & Exhibition Center during September 21 to 24, 2010. Covering an area of 35000sq.m. with an estimated 600 exhibitors all over the world and 40,000 visitors will get together. Under the full supports of domestic and overseas exhibitors, 2010 the exhibition will be more effective and splendid.

Right here inCIBIE, exhibitors will meet new international buyers, connect with existing customers, introduce new products, and collect information throughout the whole industry and exchange views with GNR experts to resolve important and difficult problems.
During the exhibition, there will be a series of summit forum and technical seminars about bearing market trends, updated technological advancements, case studies, and so on.